Our relationships are built on transparency, honesty and, above all, our values of Excellence, Passion, Integrity and Collaboration.
Management and compliance
Exceptional standards in both customer service and satisfaction are achieved through continual monitoring, assessment and refinement of our delivery processes.
Through mutual trust and open dialogue we get to understand our client's ambitions and then we work collaboratively to become our clients' long-term partners and deliver our shared goals.
Critical to these long-term relationships is our ability to deliver consistently high-quality projects, embracing innovation to improve productivity and efficiency. Our ISO 9001 certified management system underpins our approach which is supported by the latest technology and innovation to deliver right first time.
Quality throughout the project lifecycle, from design to operation, is supported by our investment in digital tools. For example, during design development, reviews with customers are conducted using our Dalux cloud-based BIM viewer and mark-up tool.
We actively engage in dialogue with our customers at various levels within the organisation and have been accredited with ISO 44001 for our approach to collaboration.
Customer satisfaction is independently assessed by a third party on a project by project basis and we use a dedicated software platform to internally analyse the data and develop improvement plans. Our internal Infrastructure Excellence awards provide another opportunity to recognise project achievements.
Key Performance Indicators
% of repeat business in our order book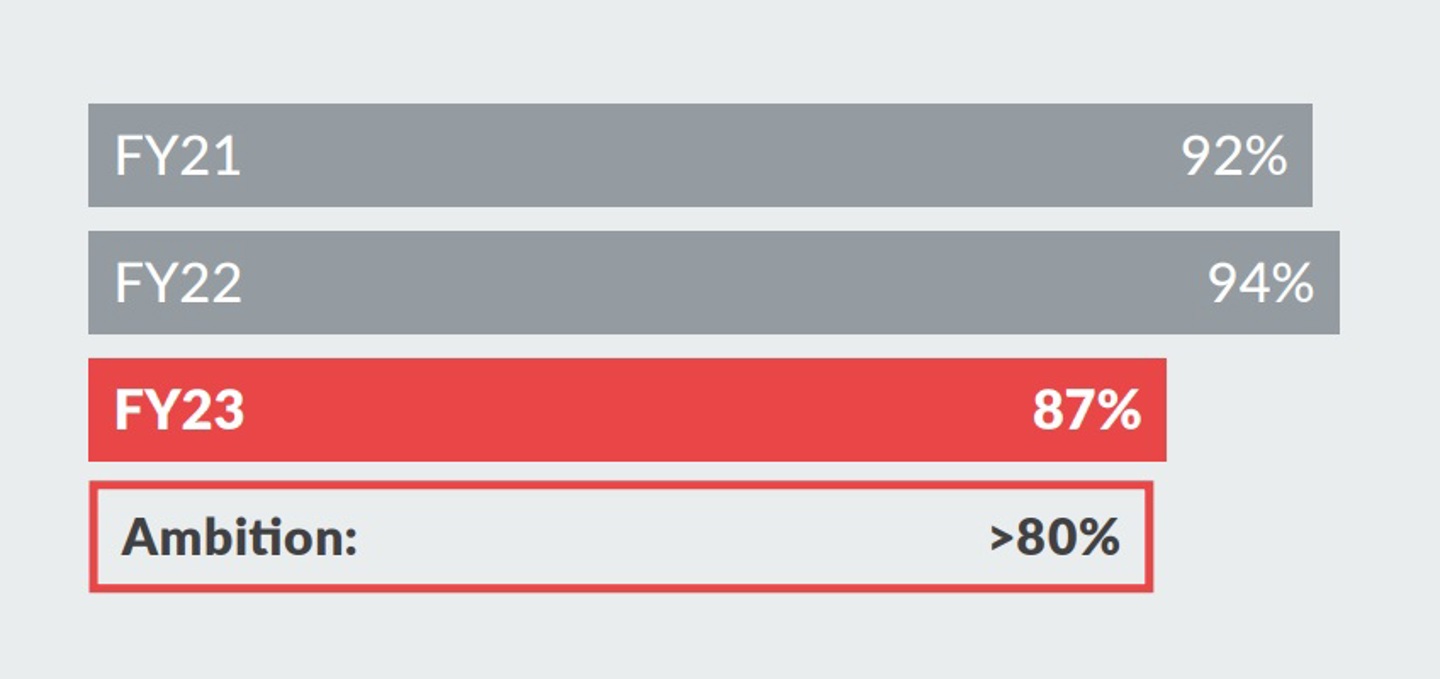 % of full year planned revenue secured at the start of the financial year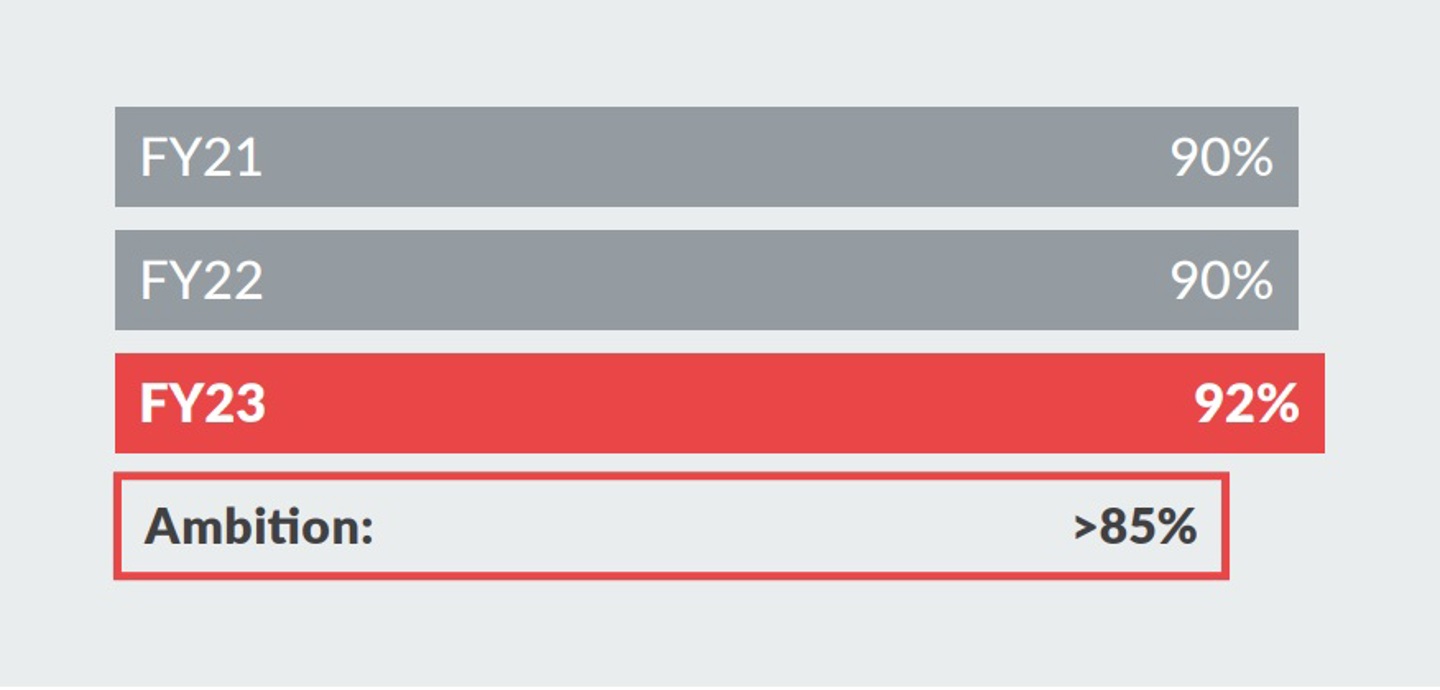 Performance
We continue to have a strong pipeline of secured work in our chosen markets, with 92% of FY24 revenue already secured, 87% of which is repeat business. These are important indicators demonstrating we are building trusted, long-term relationships with our clients based on a track record of delivering on their key priorities.
Our focus on delivering quality outcomes and building trusted relationships with our clients is reflected in the fact that 87% of our order book is repeat business. Collaborative relationships provide the platform for our teams to provide trusted advice and focus on performance with clear customer priorities and outputs, all underpinned by our accreditation to the ISO 44001 Collaborative Business Relationships Standard. Client satisfaction is independently assessed by a third party and we use a dedicated software platform to analyse the data and develop improvement plans.
Delivering low carbon buildings

Our ability to support clients in achieving their carbon reduction objectives, and demonstrate how together we can meet the Government strategy for net zero carbon, alongside our own net zero commitment by 2045 is key to our success. We continue to invest in the people, processes and technology necessary to design and construct low carbon buildings and infrastructure. Some of the key developments during the year include:
+ Expanding our use of carbon calculator tools to measure embodied carbon and modelling design interventions to reduce embodied carbon.
+ Recruiting a team of Low Carbon Construction Managers, in addition to our Low Carbon Leads, to upskill and provide specialist support to our project teams.
+ Commencing the journey to achieve the PAS 2080 Carbon Management in Buildings and Infrastructure Standard.
UK Net Zero Carbon Buildings Standard
We have been selected to contribute to the development of the UK Net Zero Carbon Buildings Standard. The presence of our teams in these working groups ensures we are at the forefront to support our clients to design, build and maintain low carbon infrastructure and buildings. The UK Net Zero Carbon Buildings Standard is a cross-industry initiative which will provide a single agreed definition and methodology for the industry to determine what constitutes a net zero carbon building.
Digital innovation
We have created an entirely digitised approach to project delivery using the latest  technologies and industry standards. We have invested in innovative technologies to improve quality and deliver efficiency and productivity improvements across the project lifecycle.
For example, our Environment business has partnered with Siemens to accelerate the integration of digital technologies across the lifecycle of water and wastewater projects. These tools aim to solve a range of challenges, such as the ability to identify potential  blockages in sewer networks, improve operational efficiency of treatment works and become a net zero industry.
Contact us
Blake House, 3 Frayswater Place, Cowley, Uxbridge, Middlesex, UB8 2AD T: 01895 855 000